D R S A B C D
Please follow the DRSABCD steps (Doctor's ABCD) to assess the situation and the state of the injured or sick person to decide how to proceed with first aid. DOWNLOAD A COPY and print several for your home, car, pickleball bag etc.
Ideally everyone should attend a first aid training course to learn the skills which will enable us to cope with all types of emergencies, but if you don't have the time, there is a lot you can do to learn the basics of CPR and defibrillators …. and potentially save a life.
The black box at the Avalon outdoor courts contains a basic first aid kit as well as a laminated DRSABCD chart with the location of nearby defibrillators on the back (coming soon).
Learn CPR – SAVE A LIFE!
Did you know that ANYONE can suffer a sudden cardiac arrest? This is caused by a freak electrical issue, unlike a heart attack which is very often diet or exercise related.
In Australia 25,000 people die from an out-of-hospital sudden cardiac arrest each year. You can make a difference to these statistics by becoming defibrillator aware and CPR friendly. If you don't have the time to get CPR certified, you can watch a free 45 minute webinar on Hutch's website. Trust me, it is great value! You even get to see Hutch doing a rap in a pink cap!
Members' Stories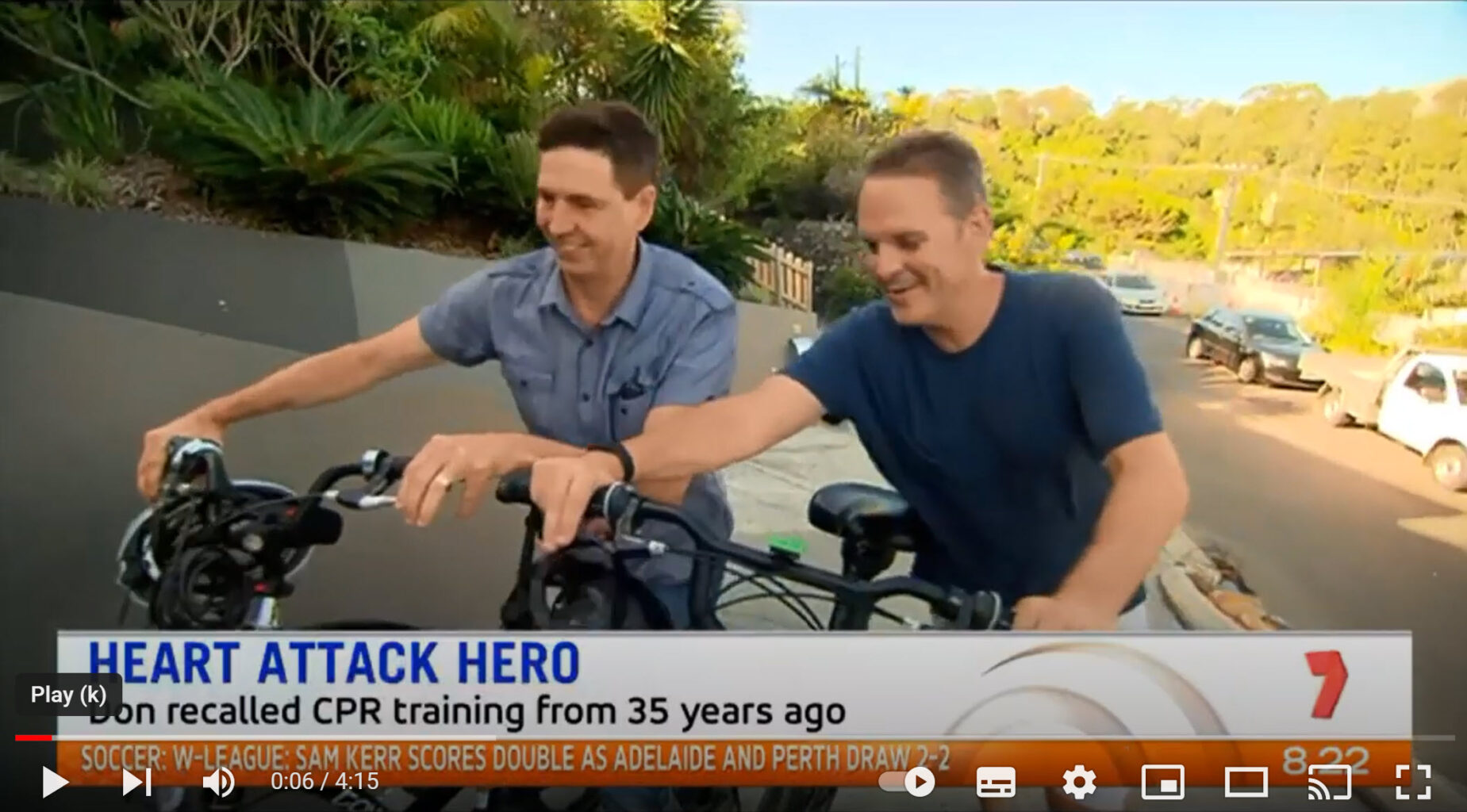 One of our members, Ian 'Hutch' Hutchinson, was a super fit 50 something year old when his heart suddenly stopped beating for 18 minutes. If it wasn't for quick thinking bystanders who administered CPR (Cardiopulmonary Resuscitation) immediately, Hutch wouldn't have been one of the lucky 9% to survive …. and the pickleball skills of many of our members would most likely not be what they are today. Click here or on image to view video.
---
Another of our members, "Iron man" Guy Leech, also has a personal story to tell.
Did you know that the average age of suffering a cardiac arrest is 61 (close to the average age of our club members)? It can happen on a pickleball court or anywhere and if you learn the skills to administer CPR until the emergency services arrive, you could save a life. Any attempt to resuscitate is better than no attempt and EVERY MINUTE COUNTS!
---
Location of Defibrillators in Avalon Beach
A defibrillator is the only thing which can restart a heart in the case of a sudden cardiac arrest. We are lucky to have at least 6 defibrillators very close to the Avalon outdoor courts. Send the fastest runners to fetch a defibrillator while CPR is being administered.
Avalon Fire Station – 689 Barrenjoey Road: This defibrillator is on the fire truck. If you can see the truck from the pickleball courts, the defibrillator is available. Ring the buzzer to the right of the building to alert the staff and they will bring it over to the courts.
---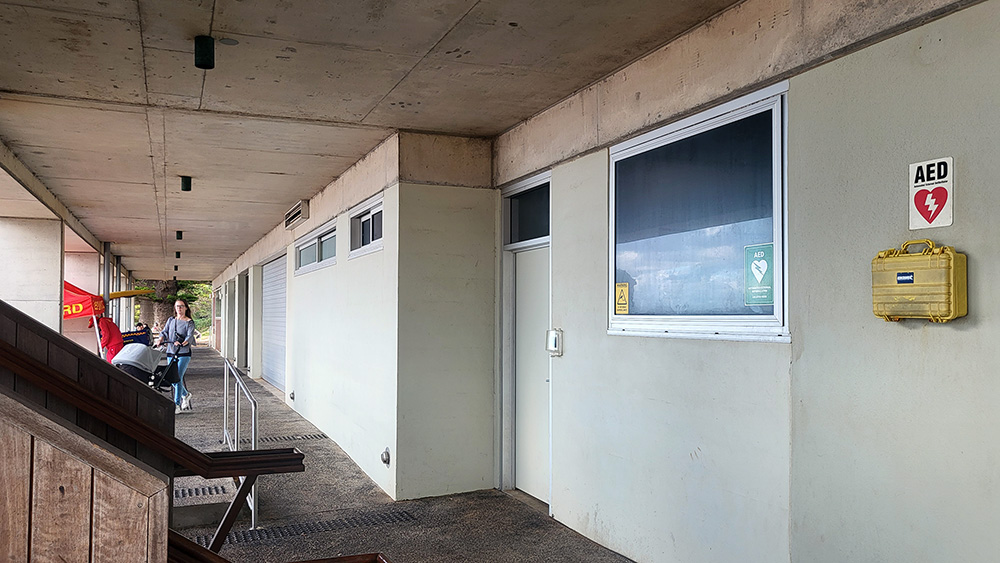 Avalon Surf Club: There is one external defibrillator on the wall near the northern end of the building as shown. As well there are another 3 inside the building in case (as a lifesaver joked), 4 of us decide to collapse at the same time 🙂
---
Woolworths: The Woollies defibrillator is located inside the store between the entry and exit doors.
---
Avalon Recreation Centre: This defibrillator is located inside the building just to the left of the entrance.
---
There is also a defibrillator inside Fitness First. The address is Level 1/24 Avalon Parade.