Pickleball venues on the beautiful Northern Beaches are rapidly growing in numbers and consequently pickleball is booming! We currently play at the Avalon Beach outdoor courts with a view to re-hiring the Avalon Recreation Centre for indoor play. With the wonderful support of Northern Beaches Council, there will soon be more pickleball courts in and around Avalon Beach.
Our Association warmly welcomes picklers from other clubs in Sydney, New South Wales and Australia, as well as overseas visitors, but please let us know if you are planning to join one of our sessions. We limit the numbers so as to give everyone sufficient time on the court. For insurance reasons, we require all visitors to join our Club as "Out of area" members after they have played with us once.
First-Timers: Please send an email to mail@avalonbeachpickleball.org.au to organise a first-timer lesson OR visit our First Timer page to book in for one.
If you have played pickleball on a regular basis: Please book into a session through OpenSports OR send an email to mail@avalonbeachpickleball.org.au. We allow visitors to play with us once before being required to join our Club.

Please see our ABPA Meetup Protocol and Procedure Policy.
Bring a pickleball paddle if you have one, otherwise you can borrow one of ours until you are ready to purchase your own. You will also need to bring a bottle of water to stay well hydrated. Wear comfortable clothing and non-marking tennis or indoor sports shoes … sandals, thongs and running shoes are not permitted, because they do not provide enough support for playing pickleball.
PLEASE GO TO OUR AVALON BEACH SYDNEY OPENSPORTS SITE TO CHECK THAT THESE SESSIONS ARE ON.
---
Avalon Recreation Centre
Saturday afternoons
Wednesday evenings
3 indoor courts
59 Old Barrenjoey Road, Avalon Beach
Cost: $8
Session times on OpenSports
Parking: There is some unlimited parking behind the centre (see photo). The Woolworths carpark across the road has a 2 hour limit on the weekends so you might have to move your car at some stage if you park there.
Avalon Outdoor Courts – Barrenjoey Road (East)
Saturday mornings
Sunday mornings
Monday mornings
Monday evenings
Wednesday mornings
6 outdoor courts
Avalon Beach Reserve, Barrenjoey Road, Avalon Beach
Cost: $6
Session times on OpenSports
Parking: There are various places to park around the courts. The best places are marked with red lines. If you park on the ocean side of Careel Creek, you can either walk around the skate park or cross over the bridge and walk through the dog park (marked in blue).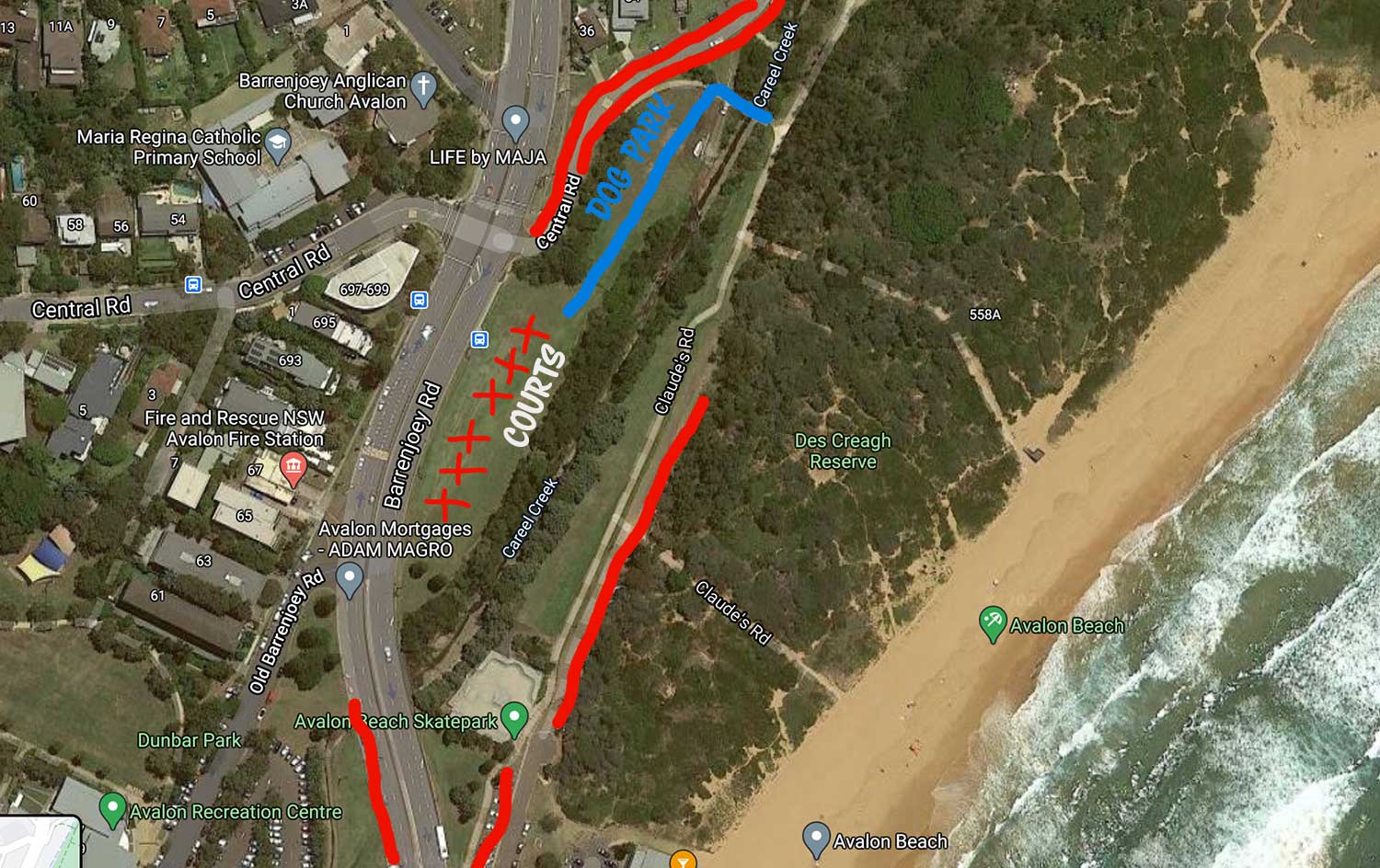 ---
---
Other Sydney Pickleball Venues
There are various other smaller clubs in Sydney where you can play pickleball.