NBPA Newsletter – September 2021
President's Report
I am pleased to announce that we will most likely be able to play pickleball commencing sometime from mid-October at PCYC Dee Why. However, at this stage I am not able to tell you what restrictions will be placed on the number of members that can participate in any one event.
I am hoping that the postponed AGM will be able to be held in mid-November, again this will depend upon the indoor and outdoor restrictions on numbers.
Our annual Xmas party will be held on Wednesday 5 December. I hope you can join us! Please find all the details below, including a link to Meetup where you can reserve your spot.
I am sad to tell you that Barry Tompkins, the manager at PCYC, will be relocating to Byron Bay, but will continue to have a roll in PCYC. At this stage I don't know who will be replacing him. Barry has been a great supporter of pickleball and has helped us develop the game on the Northern Beaches. On behalf of the Club, we wish him and his family all the best for the future.
You will have seen that we have utilised the use of the outdoor courts in Avalon during lockdown and have had the opportunity of having coaching sessions for members as well as some singles competitions. I am pleased to say that due to the visibility of the venue from Barrenjoey Road, we have had many enquiries about the game and many people are waiting for an opportunity to try out when restrictions ease.
Over the past six months we have been in discussions with Northern Beaches Council with a view to identifying potential outdoor venues for playing pickleball. These discussions are ongoing.
Our trip to the Gold coast to play at the outdoor courts in Currumbin has been postponed to a date to be agreed upon next year. There will be many opportunities to arrange similar trips to play at other clubs in Australia once Covid-19 is behind us.
Hope to see you on the court shortly.
John Fuller
NBPA President
0408 888 695
Avalon play during the Covid-19 lockdown
Our beautiful pickleball courts in Avalon have been an absolute godsend during the Covid-19 lockdown! However, it has meant that until last week we have only been allowed to have 6 people at each session, playing singles on 3 courts. The latest easing of restrictions allows for groups of 5 to gather outdoors so that we can once again resume doubles play. For those of you who have missed out on getting a spot, please rest assured that once all restrictions are lifted, we have the entire complex booked and can accommodate up to 30 people.
Christmas Party

at Manly Dam – You're invited!
We would love you and your partner or friend to join us in celebrating Christmas with your fellow pickleballers.
Due to Covid-19 restrictions and the uncertainty of what our freedom will look like in December, the NBPA Christmas Party will be in the form of a picnic at beautiful Manly Dam.
Enjoy a 3 course lunch and a complimentary glass of champagne for just $15!
DATE: Sunday 5th December 2021 starting at 12.00 noon (after Sunday Morning Play at PCYC)
VENUE: Manly Dam – Picnic Area 3 – Table 22.
BYO: Drinks and a folding chair or picnic blanket.
Spaces are limited so CLICK HERE to book your spot through Meetup ASAP!
Take it easy when you return!
Archie Richard's Pickleball Warm Up Routine
Most of us haven't been doing much exercise lately so take it easy to begin with! To avoid injury, build your fitness over time and don't forget to ensure that you have a good warm up before you play.
The main purpose of a warm up period is to raise the general body temperature prior to playing. When the body temperature is raised it will increase your ability to perform the stretching exercises. The warmup period should be approximately 5 minutes.
Following the warm up period, begin a stretching program. This will increase your flexibility, which allows for better performance and decreases the possibility of injuries. The muscles/joints that need to be stretched are: ankles, Achilles tendon, calf muscle, quadriceps (front of upper leg), hamstrings (back of upper leg), groin, low back, shoulder and arms.
Archie Richards of Rebound Health (one of our valued sponsors) has developed this warm up routine specifically for pickleball. Make it a habit to do these exercises before you play to avoid injury.
Whilst we all want to have fun, rules are created to make the game fair for everyone and to help eliminate conflict. In recreational play (when there is no referee) it is just as important to understand and follow the rules of pickleball.
It is your responsibility to make fault calls on yourself or your partner when they occur, and you see them. Doing so upholds the integrity of the rules of pickleball and makes for a much more fun playing experience for all.
Check out the following 3 rules which aren't common knowledge:
The kitchen rule states that you cannot be touching the kitchen zone or kitchen line while volleying a ball, nor can you touch your partner if they are touching the kitchen zone. This includes your momentum that landed you in the kitchen after volleying a ball even when the point is already over.
9.C. During the act of volleying, it is a fault if the volleying player's momentum causes the player to contact anything that is touching the non-volley zone, including the player's partner. For a wheelchair player, the front (smaller) wheels
may touch the non-volley zone.
9.C.1. It is a fault even if the ball becomes dead before the player contacts the non-volley zone.
You clearly saw your opponent's foot touch the non-volley zone line as he volleyed a shot. You immediately call "kitchen fault!" By the time he looks down, his foot is safely 3″ behind the line, therefore he disagrees with you. What do you do?
13.D.1.b. Players may call NVZ faults and service foot faults on the opponent's side of the court. If there is any disagreement among players about the called fault, a replay shall occur.
If the server hits the return-of-server's partner (or the return-of-server, for that matter) in the air before the ball bounces, it is a fault on the receiving team and results in a point for the serving team.
4.N. Receiver Faults. It is a fault against the receiving team resulting in a point for the server if:
4.N.2. The receiver or their partner is touched by or interferes with the flight of the ball before it bounces.
Download the complete 71 page USA Pickleball 2021 Official Rulebook for some light bedtime reading.
Non-volley zone (kitchen) line rules explained (again)!
There still seems to be confusion about the kitchen line rules! Please watch these videos (particularly the first one) to find out everything you always wanted to know about the kitchen area in pickleball, but were afraid to ask. Click on the "YouTube" link for a better viewing experience.
We are still hearing people say: "You can't step into the kitchen until after the ball bounces". WRONG!
Clarification: You are allowed to step into the kitchen any time before the ball bounces.
"You must get out of the kitchen right away after returning a ball which bounced first". WRONG!
Clarification: You need not get out of the kitchen right away. You can stay in the kitchen as long as you want, provided that you don't hit a volley while lingering there. However, if you have to go into the kitchen, get out as soon as you can otherwise you are a sitting duck!
"Only one partner can stay in the kitchen at a time". WRONG!
Clarification: You and your partner can do what you like in the kitchen provided that you don't hit a volley.
The bottom line is …. both feet must have made contact with the playing surface outside the non-volley zone before you can volley the ball (hit it before it bounces).
Player profile – Hutch (Ian Hutchinson)
How long have you been playing pickleball? I hit my first pickleball at the end of April this year (so 5 months) and instantly fell in love with the game. I'd have to say it was 'love at first shot' to the point where I have recently been diagnosed with O.P.D or Obsessive Pickleball Disorder. So much so that during this last lockdown Barry Tompkins and I have decided to complete our PCI Coaching Certification Level 1 online.
How did you first hear about pickleball? One weekend in April we were driving past Avalon outdoor courts on the way to my in-laws' place and I saw a bunch of weirdos playing this strange game with a yellow ball. Once I got to my in-laws I jumped on Google and started researching it for the next hour or so (who needs in-laws when you have pickleball). I contacted the wonderful Rona at NBPA and the next Monday I started my addiction. Thanks Rona!
What do you like about the game? Being a ball sports junkie, pickleball has got a lot going for it. As we all know it's a fusion of tennis, badminton and table tennis. But I also like to think it has aspects chess, dare I say it lawn bowls and of course cricket (but mainly for the sledging). So it brings out my inner child while also burning off some much needed calories.
Which other sports have you played in your younger years (or are still playing)? In my much younger years I used to play and coach squash, triathlon and skiing. But I have also had a decent go at table tennis and a little dabble with tennis and badminton. I still ski, gym and cycle as much as the body will allow.
How often do you play pickleball? As much as my body and lockdown will allow me. I'm keen to improve as quickly as I can before I die prematurely.
Thanks to Hutch for sharing his pickleball experience with us.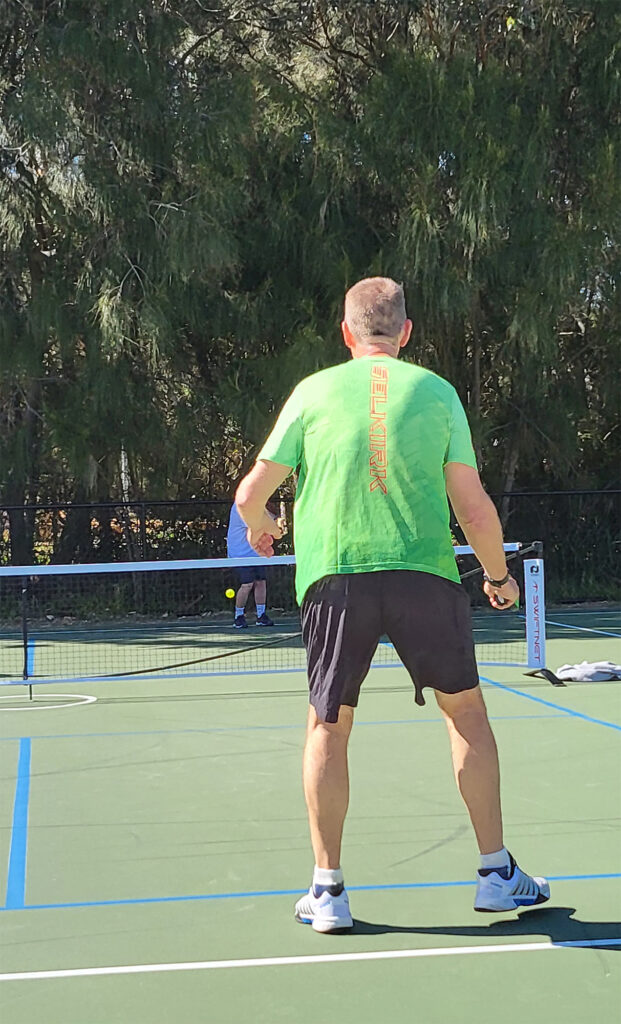 Feedback
Please send any feedback or suggestions for the NBPA newsletter to mail@northernbeachespickleball.org.au.
Please support our generous sponsors
Pickleball: The Sport for Life